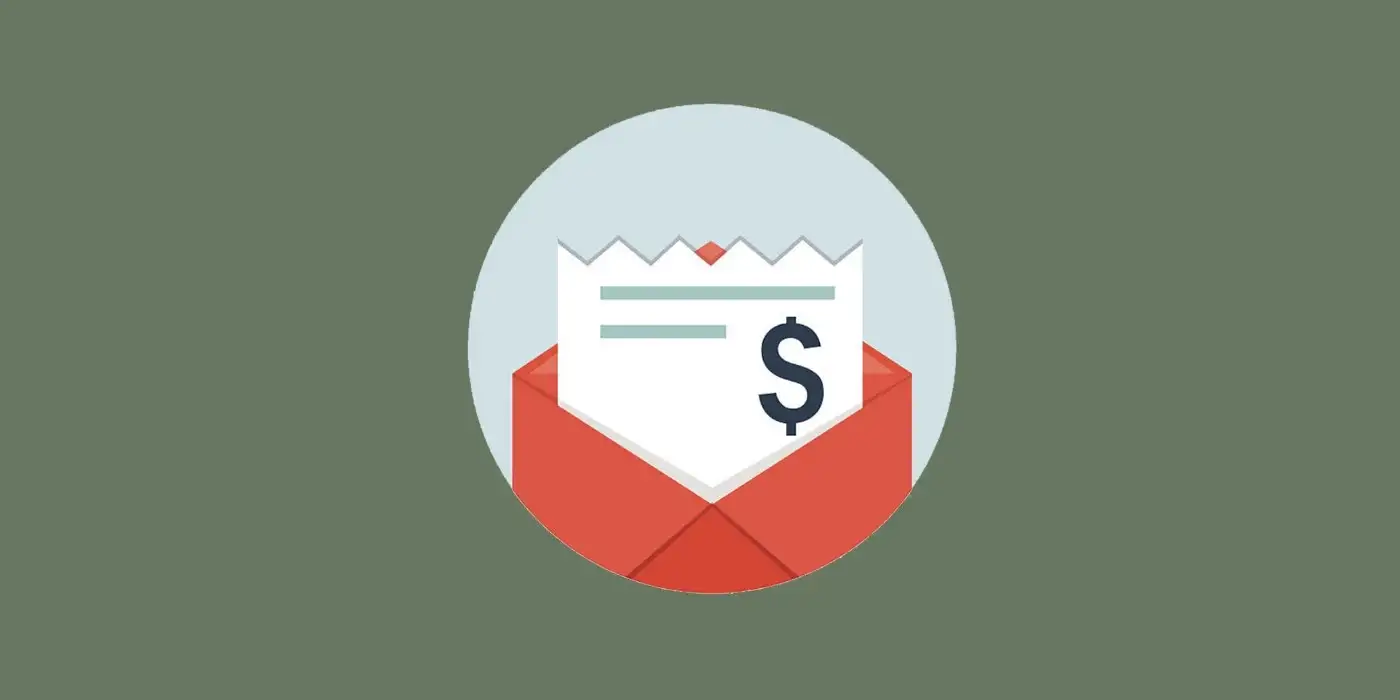 What if I told you that you could get as many freelance clients as you want by following a few straightforward principles? Finding freelance clients can be more simple than you think.
Note that I said "simple", not "easy".
Writing great proposals to prospects is something most freelancers never master. I have over a decade of freelance experience and I'm still learning. Here's what I know so far.
Quality over quantity
First of all, forget about sending 30 or 50 proposals per day. The only way to send that many proposals is by sacrificing the two most important things we will talk about in this article:
Ruthlessly filtering prospects.
Writing a custom, unique proposal for each prospect.
If you wrote 50 proposals per day while following these rules, you would do nothing but write proposals all day long. This is, of course, not feasible - you need to allocate most of your time for client work.
I write 1 or 2 proposals per day when I'm actively looking for work. I'd recommend writing 3 - 5 proposals per day if you're a beginner. Any more than that, and you start to lose what makes your proposals stand out from the million other freelancers looking for work.
So, how do you apply the two rules above in practice?
Two paradigms
As we answer the question above, we will analyze two different paradigms.
The first paradigm involves leveraging a freelance platform such as Upwork. The second is cold outreach.
Filtering prospects: Upwork
Upwork is full of cheap clients. However, it also comes with a ton of useful filters that you can use to filter the top 10% of clients on the platform.
First, you want to make sure that the client is willing to pay well.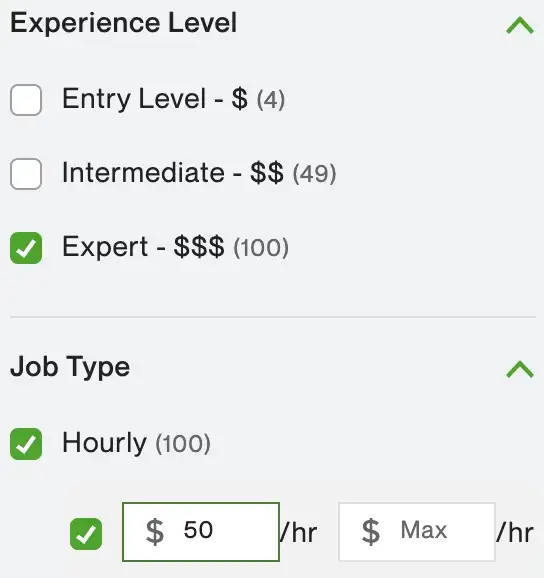 Second, you want to make sure that the client is prepared to pay on the platform.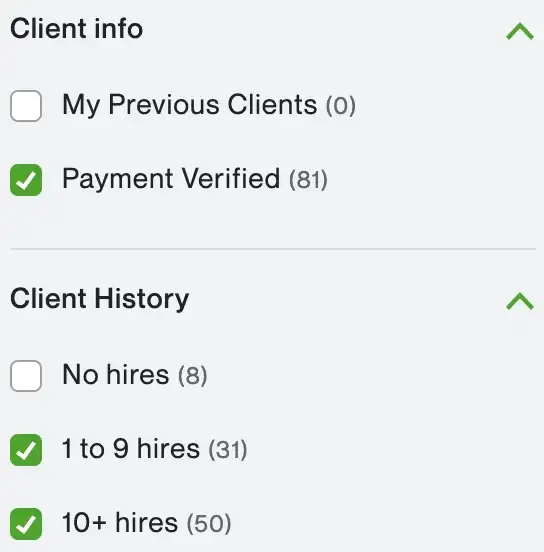 Once you apply these filters, you will see a list of projects. From that list, you will apply three more rules:
Select only projects that come with a good description.
Skip the ones where the client has bad reviews from previous freelancers.
Definitely skip the ones that have an aggressive or disrespectful tone.
In addition to this, you will, naturally, filter by type of job and technology to match your skill set.
Follow these rules and your chances of success on Upwork will skyrocket overnight. For a more detailed look at filtering Upwork clients, read this article.
Filtering prospects: cold outreach
With cold outreach, things are different. There are no neat filters, no UX, and no reviews. You have to do your own due diligence.
But, do not resign yourself to writing 100s of emails to random companies in hopes that one will require your services. Instead, filter opportunities by:
Niche. Have you done some outstanding work in the fintech industry? Great. There's your intro to any fintech startup out there. Leveraging niche/industry experience increases your chances of success manyfold. No real experience? Create some experience through your side projects if you're a developer, or through your blog/portfolio if you're a content creator.
Detecting problems. You're a writer. You notice poor writing on a company's landing page. What do you do? Contact them and offer to make it better. You're a web developer and you notice a bug/inefficiency on a website. What do you do? You guessed it! Detect a concrete problem, offer concrete steps to solve it, and highlight the impact this will have on the prospect's business.
Funding. Funded startups have funding. Profitable companies have profits. Unfunded startups generally have neither. Focus your efforts on prospects who can afford your services.
Whether you're actively browsing for prospects or just going about your business, keep your eyes open for conversation-starters, especially when you can talk directly to a decision-maker at a funded company.
Having a social media presence is invaluable in this regard. I've messaged people on a whim after seeing their tweet about a problem they're having - and it worked more often than I would have guessed.
Writing proposals: Upwork
I've written hundreds of Upwork proposals and won over 60 projects.
The secret? Doing what most freelancers are too lazy or ignorant to do.
You already have the client's basic information and a project description. Use it! It's astounding how many freelancers write proposals as if they were cold emailing. Upwork prospects are warm by default. They already know what they want done and they are looking to hire a freelancer to do it.
Leverage that by asking questions about their project, problem-solving from the start, and encouraging communication. I wrote about this in far more detail in this free guide where I analyze 10 real winning Upwork proposals.
Writing proposals: cold outreach
In cold outreach, we don't have the benefit of a warm prospect - but we also don't have to worry about 50 other freelancers emailing the client on the same day.
We can thus take our time to warm up the client. We do this in four steps:
We've already detected a problem with the client's website, business model, design, etc. Start your email with that. Position yourself as a problem-solver from the start.
We've also already established that the client belongs to an industry we have experience in (or at least have a keen interest in). Follow up with that, showing that you understand the context of their business. Clients love to hire low-overhead workers. That means that they don't have to waste a lot of time explaining to you how their industry works, what's important and what isn't, and so on.
Propose a concrete solution to the problem and a first step that you would take.
Invite them to take action, whether by booking a call or replying to your email.
Make sure they understand that the entire email was custom-written just for them, and that this is not just some generic cold email with their name inserted into a template.
Strike while the iron is hot
Finally, whatever you do, do it quickly. Hesitation kills opportunities, especially in high-competition environments like Upwork.
See a project you like? Apply now, rather than Monday morning. By then, they might hire someone else.
A client has responded to your proposal and they want to set up a call? Ask if they want to do the call now. Offer other options as an alternative if they're too busy.
If you're anxious about communicating with a stranger, remember: putting it off for tomorrow will just give you more time to be anxious.
Be relentless
Whatever you do, don't get discouraged.
It took me years of trial and error to understand the truths I shared in this article. Now, I regularly turn down offers or pass them on to people in my network. When I apply to projects, it's because I find them fascinating or challenging, not because I lack work.
In short, I have positioned myself as a premium freelancer.
If you approach your prospecting with purpose and determination, you will find yourself in the same position sooner or later.
Don't miss the next blog post!
I publish a new blog post every Wednesday. If you found this article useful, use the form at the bottom of this pageon the right to get a reminder in your inbox.
As a bonus, the newsletter features exclusive content not found in the blog.